Jump to:
Frequently Asked Questions
Sponsors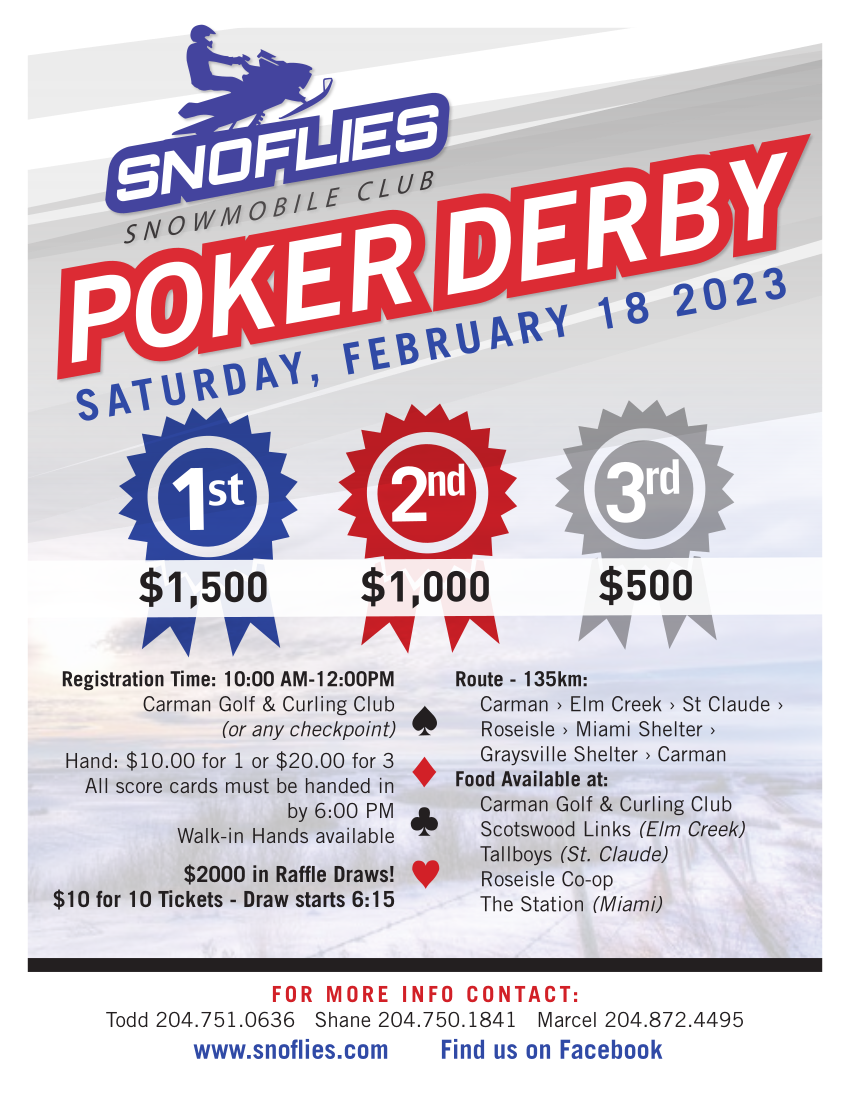 Frequently Asked Questions
Q. Where can I stage my snowmobile?
A. There is a large parking lot right at the golf course you can use to unload and load your snowmobile.
Q. How exactly does a Poker Derby Work?
A. There are many variations on how a poker derby is done. This is how we do ours. Arrive at Carman Golf and Curling Club Family Restaurant between 10am and 12pm. At this point you can purchase 1 poker game for $10, 3 poker games for $20. (Even 6 poker games for $40 if you would like). You will then draw your first poker chip for each game purchased - we will record your score on your card. Then you will head over to next checkpoint, Scotswoods Links in Elm Creek - again we will record your scores. Repeat this for the remaining check stops at TaLLboys Grill & Pub in St Claude, Roseisle Coop, Miami Shelter, Graysville Shelter. Last head back to Carman Golf and Curling Club to find out if you've won. Keep in mind the deadline is 6PM. Also be sure to leave enough time to purchase raffle tickets at Carman Golf and Curling Club.
Q. Do you have to own a snowmobile to participate?
A. No. You can show up to any of the check stops to enter into the derby and complete all 6 hands at one location. Alternately you can enter the derby in Carman and drive to each location on the highways.
Q. Where are the funds raised going?
A. All funds will be used to assist us with the day to day cost of grooming trails, trail signs, maintaining equipment, new equipment, fuel, maintaining and upgrading shelters, etc. In addition we donate to a community organization yearly.
Q. What if I am unable to complete the whole ride?  Is there a way I can fill out the rest of my card?
A. Yes. Make your way to any of the check stops and you can draw the remaining poker chips to complete your card. We will bring your card to Carman Golf and Curling Club for contest entry.
Q. How much time should I allow to complete the derby?
A. A typical rider will take about 4 hours to complete our poker derby loop
Q. When are winners announced?
A. All score cards need to be handed in by 5:30 at a checkpoint or by 6PM at Carman Golf and Curling Club. After a brief counting period we will announce the winners. The raffle draw will start at about 6:15PM
Sponsored By
A big thank you to this years sponsors which helped make this years Poker Derby possible!