Jump to:
Frequently Asked Questions
Sponsors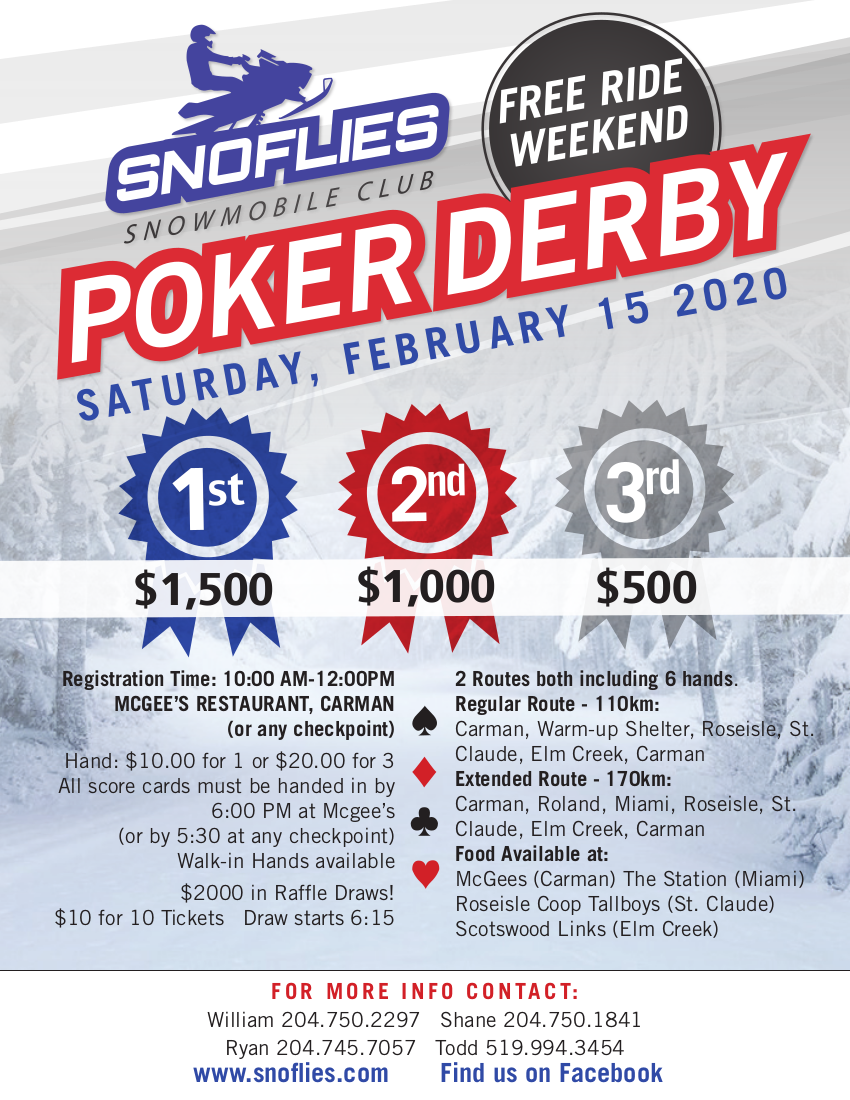 Frequently Asked Questions
Q. What types of raffle prizes are available?
A. Check back for updates over the next couple weeks. We haven't gone shopping yet.
Q. Where can I stage my snowmobile?
A. There is a large parking lot right at the golf course you can use to unload and load your snowmobile.
Q. Why are you offering an extended route option?
A. We really wanted to include the new Miami Shelter as a checkpoint, but we felt that a derby length of 170km could turn away some riders. After a debating many options we felt this was the best way to include it was to give the riders the choice of our regular route or the extended route to check out the new shelter & trail.
Q. How exactly does a Poker Derby Work?
A. There are many variations on how a poker derby is done. This is how we do ours. Arrive at McGees Family Restaurant between 10am and 12pm. At this point you can purchase 1 poker game for $10, 3 poker games for $20. (Even 6 poker games for $40 if you would like). You will then draw your first poker chip for each game purchased - we will record your score on your card. Then you will head over to next checkpoint, Graysville Shelter (regular route) or Roland General Store (extended route) and draw your second poker chip - again we will record your scores. Repeat this for the remaining check stops at Roseisle Coop, Tallboys, Scotswood Links and last draw back at McGees. (Miami Shelter, Roseisle Coop, Tallboys, Scotswood Links on the extended route.) Last head back to McGees to find out if you've won. There will be plenty of opportunities to purchase raffle tickets at each stop along the way for the door prizes.
Q. What is "Free Ride Weekend"?
A. This is a program offered by Snoman which allows riders with a registered snowmobile but without a Snopass to ride the trails (including riders from out of province). You must register with Snoman (no charge) to get your free weekend pass. More information (including the registration form) is available
here
.
Q. Do you have to own a snowmobile to participate?
A. No. You can show up to any of the check stops to enter into the derby and complete all 6 hands at one location. Alternately you can enter the derby in Carman and drive to each location on the highways.
Q. Where are the funds raised going?
A. All funds will be used to assist us with the day to day cost of grooming trails, trail signs, maintaining equipment, new equipment, fuel, maintaining and upgrading shelters, etc. In addition we donate to a community organization yearly.
Q. What if I am unable to complete the whole ride?  Is there a way I can fill out the rest of my card?
A. Yes. Make your way to any of the check stops and you can draw the remaining poker chips to complete your card. We will bring your card to McGees for contest entry.
Q. How much time should I allow to complete the derby?
A. A typical rider will take about 4 hours to complete our regular poker derby loop and about 6 hours to complete the extended route including a lunch break.
Q. When are winners announced?
A. All score cards need to be handed in by 5:30 at a checkpoint or by 6PM at McGees. After a brief counting period we will announce the winners. The raffle draw will start at about 6:15PM
Sponsored By
A big thank you to this years sponsors which helped make this years Poker Derby possible!
Platinum
TriStar Ag Services
Walinga
Greenland Equipment
Avenue Polaris
Gold
Carman Ford
Silver
R&D Winkler Trucking
Kings Park Towing
Blackbear Mobile Sandblasting
Janzens Chevrolet Buick GMC
Seahawk

Bronze
Eds Tire Service
Home Hardware
Town of Carman
RM of Dufferin
Richardson Pioneer
Scotswood Links
Carm Auto Ag Parts
AGrow360
Vanderveen Commodities Service
MMJS Law Offices
Skylon Electric
RJP Seed
Newman Hand Insurance
Field2Field Agronomy
Sperling Industries
Homestead Coop
Wes's Tire Shop
SJ Agronomy
BSI Insurance
Nutrien
TRS Truck Shop
Coop Propane
Spencer & Thiessen
Tallboys Grill&Pub
Breakaway Family Restaurant & Lounge
Boruss Contracting


Friends
Agassiz Seed Farm
Gavilon
Toews Printing Office Supply
Great White Tech
Archway Dairy Solutions
Roland Air Spray
McRau Farms
Aubins Nurseries
George & Associates
Viterra
Bud McKnight Seeds