Thanks to all our sponsors and check point hosts. You helped make this years poker derby a big success. Thanks to all riders for coming out and participating - hope to see you all again next year!
Jump to:
Frequently Asked Questions
Sponsors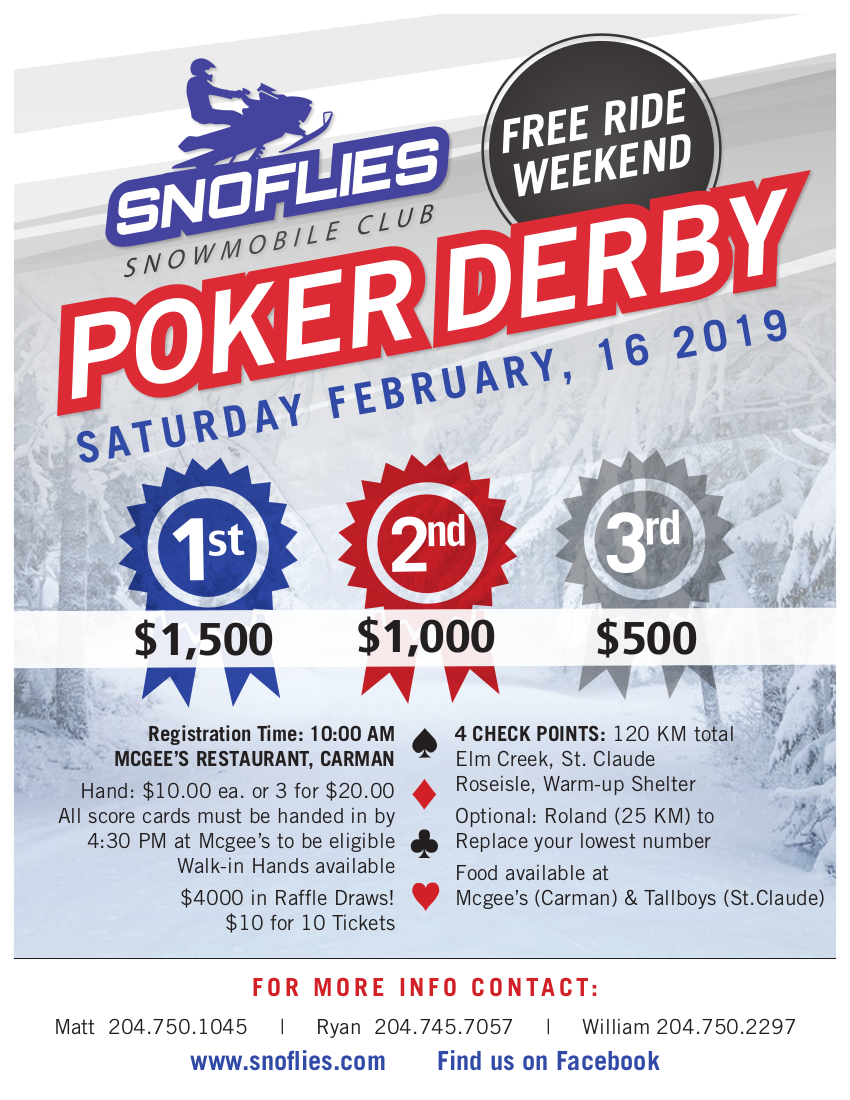 Frequently Asked Questions
Q. What types of raffle prizes are available?
A. Some of the prizes include:
Portable Weber BBQ with stand
Kitchen Aid Mixer
Makita Tool Set (Drill, Impact, Reciprocating Saw, Circular Saw)
Shop Vac
Chain Saw
Snowmobiling Gear - Helmet, Gloves, Boots, etc
Gift Cards
Q. Where can I stage my snowmobile?
A. There is a large parking lot right at the golf course you can use to unload and load your snowmobile.
Q. How exactly does a Poker Derby Work?
A. There are many variations on how a poker derby is done. This is how we do ours. Arrive at McGees Family Restaurant between 10am and 11:30pm. At this point you can purchase 1 poker game for $10, 3 poker games for $20. (Even 6 poker games for $40 if you would like). You will then draw your first poker chip for each game purchased - we will record your score on your card. Then you will head over to Elm Creek Golf Course and draw your second poker chip - again we will record your scores. Repeat this for the remaining check stops at Tallboys in St. Claude, Roseisle Coop and the final stop at our club house. At this point you can choose to ride to Roland General Store to replace your lowest number with an additional draw. Last head back to McGees to find out if you've won. There will be plenty of opportunities to purchase raffle tickets at each stop along the way for the door prizes.
Q. What is "Free Ride Weekend"?
A. This is a program offered by Snoman which allows riders with a registered snowmobile but without a snopass to ride the trails (including riders from out of province). You must register with Snoman (no charge) to get your free weekend pass. More information (including the registration form) is available
here
.
Q. Do you have to own a snowmobile to participate?
A. No. You can show up to any of the check stops to enter into the derby and complete all 5 hands at one location. Alternately you can enter the derby in Carman and drive to each location on the highways. To be eligible for the 6th draw, to replace your lowest number, you must travel to Roland General Store.
Q. Where are the funds raised going?
A. All funds will be used to assist us with the day to day cost of grooming trails, trail signs, maintaining equipment, new equipment, fuel, maintaining and upgrading shelters, etc. In addition we donate to a community organization yearly. This years selection is STARS air ambulance.
Q. What is the optional checkpoint for?
A. Lets say you draw poker chips numbers 19 - 23 - 21 - 8 - 25. This is a really good hand, except for the 8... The Optional ride to Roland will allow you to try replace your lowest number 8 with a higher number.
Q. What if I am unable to complete the whole ride?  Is there a way I can fill out the rest of my card?
A. Yes. Make your way to any of the check stops and you can draw the remaining poker chips to complete your card. We will bring your card to McGees for contest entry.
Q. How much time should I allow to complete the derby?
A. A typical rider will take about 4 hours to complete our main poker derby loop including a lunch break.
Q. When are winners announced?
A. All score cards need to be handed in by 4:30PM and after a brief counting period we will announce the winners. The raffle draw will start about 5PM
Sponsored By
A big thank you to this years sponsors which helped make this years Poker Derby possible!
Platinum
Greenland Equipment
Bucksaw Timber
TriStar Ag Services
Silver
Town of Carman
Janzens Chevrolet Buick GMC
AGrow360
Kings Park Towing

Bronze
Sperling Industries
Nutrien Ag Solutions
Wayne Waddell Electric
TaLLboys Grill & Pub
South Central Building Systems
Homestead Coop
Roland Air Spray
Eds Tire Service
Bud McKnight
MK Agro
Walinga Inc
Richardson Pioneer
Skylon Electric
Friends
Home Hardware
Agassiz Seed Farm